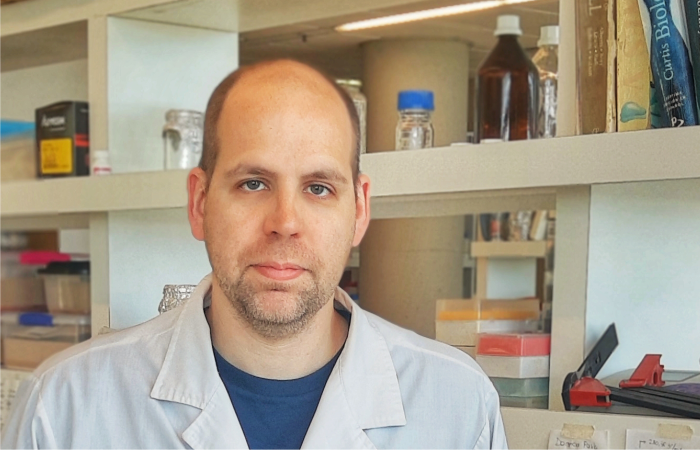 Laboratorio de fisiología y biología molecular vegetal
Dr. Martiniano Ricardi

DIRECTOR DE PROYECTO
Departamento de Fisiología, Biología Molecular y Celular, FCEN, UBA.
Investigador Adjunto CONICET 
martiniano@fbmc.fcen.uba.ar
After finishing my PhD at the University of Buenos Aires, working with ASR1 protein from tomato. I switched from Transcription factors and water stress to O-glycosylation and cell expansion as a post-doc. Now I´m starting my own research line in plant secretion and growth. I´m currently focusing in the R-SNARE protein VAMP721, fundamental in membrane fusion, one of the last steps of secretion and trafficking in general. I´m also developing enhanced protein-protein interaction analysis tools.
Líneas de Investigación / Research Projects
Regulación de la fusión de vesículas:
Las células eucarióticas poseen organelas que compartimentalizan sus funciones celulares. Esta división, impone la necesidad de una vasta e intrincada organización que permita mover material (proteínas, lípidos, metabolitos) entre diferentes ubicaciones de la célula. Gran parte de estos movimientos ocurre en vesículas que deben fusionarse a su sitio destino de manera altamente especifica y controlada. EN el laboratorio trabajamos con proteínas del tipo R-SNARE, responsables del ultimo paso de la fusión de vesículas en la secreción, la división celular y el reciclado.
Buscando funciones para la familia de genes ASR relevante en la respuesta al estrés biótico:
La familia de genes ASR (ABA/STRESS/RIPENING) reciben su nombre por estar inducidos durante la maduración de frutos y en respuesta al estrés abiótico y a la fitohormona ABA. Hasta la fecha se describieron sus funciones de factor de transcripción y proteína chaperona, pero al no disponer de plantas totalmente carente de esta familia de genes, no sabemos hasta donde llega su importancia fisiológica. Luego de mas de 25 años trabajando sobre esta familia nos embarcamos en la generación de plantas editadas mediante CRISPR-CAS9 para remover todos los 5 genes de la familia en tomate. Una vez logradas las quíntuples mutantes utilizaremos enfoques fisiológicos, transcriptómicas, proteómicos y metabolómicos para determinar el alcance de las funciones de esta intrigante familia génica.
Desarrollo y mejoramiento de técnicas moleculares para detección de interacciones proteína-proteína:
Desde su desarrollo la técnica de complementación bimolecular de la fluorescencia (Bifc) permite la visualización in-vivo de interacción entre dos proteínas. El sistema de Bifc fue mejorando con el tiempo con la incorporación en un mismo vector de ambas proteínas a testear y una segunda proteína fluorescente como punto de referencia. Este último "upgrade" se conoce como rBifc. Sin embargo, una de las principales limitantes del sistema es que no solo responde a la fuerza de la interacción entre dos proteínas dadas sino que también refleja la estabilidad de cada una de estas proteínas. Si por ejemplo una de ellas fuera rápidamente degradada rBifc daría un falso resultado negativo. Actualmente estamos desarrollando un nuevo rBifc el cual será inducible y consistirá en un único mRNA que luego de traducirse dará origen a las tres proteínas necesarias para el sistema. Este nuevo irBifc (por inducible rBifc) permitirá evitar falsos positivos y negativos, así como también estudios dinámicos de la interacción de las proteínas en cuestión.
Desarrollos para la potenciación de la investigación en Arabidopsis:
Uno de los mayores cuellos de botella en el trabajo con Arabidopsis es el tiempo que se necesita para obtener y seleccionar líneas transgénicas. El sistema FAST-RED permite la identificación de eventos transgénicos en las semillas de manera no destructiva. El un trabajo multidisciplinario entre biólogos, ingenieros y físicos, hemos comenzado un proyecto del tipo START-UP para construir un dispositivo capaz de seleccionar de manera automática las semillas de Arabidopsis transformadas con FAST-RED. Este dispositivo facilitara un uso mas masivo de la tecnología FAST-RED y ayudará a reducir los tiempos necesarios para la creación de líneas transgénicas requiriendo una generación menos para los experimentos (2-3 meses). También permitirá la construcción y selección de bibliotecas para la búsqueda de–novo de genes relevantes en el fenotipo de interés.
Publicaciones / Publications
RICARDI, MARTINIANO M.; ESTEVEZ, JOSÉ M.
Presentaciones a congresos / Conference presentations
Compartir en Redes Sociales